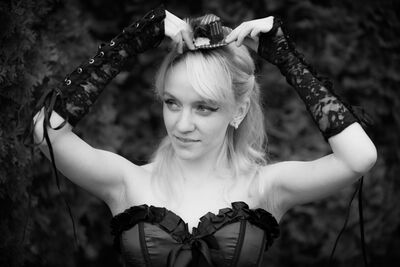 Gothic Victorian Accessories
Chokers are usually made of velvet, lace, ribbon, fabric, or a comination of these.  Most chokers are embellished in some way, and can be embellished with:
Beads
Pearls
Cameos
Crosses
Bats
Bows
Necklaces can have one chain or several layers of chain, chain and ribbon, lace, etc. A popular necklace among Gothic Victorians is the rosary.
Cuff bracelets, like chokers, are made with velvet, lace, ribbon, fabric, or a combination of these.  Cuff bracelets may also have adornments such as beads, pearls, bows, buttons, cameos, crosses, or bats.
Rings may be worn as well.  Some ladies wear only one ring, while others wear rings on almost every finger.  It really comes down to style preference.
Hair acecssories include bows, hair pins, and hair combs.  Other items, such as flowers, may also be tucked into the hair. 
Hats of various sizes may be worn, from miniature to oversized.  Hat pins may be used to secure the hat to the head.  Hats are considered statement pieces, and so are usually highly decorative.  Some hat decorations include:
Lace
Cameos
Spiders
Ribbon
Pearls
Bows
Feathers
Skulls
This is a very small list of hat decorations.  Just about anything can be used to decorate a hat! A parasol is very important to any proper Gothic Victorian lady.  Parasols are basically an umbrella for sun, rather than rain.  Many are made of lace, and may be decorated with layers, bows.
Ladies may also wear gloves to help protect their skin from sun damage.  Gloves may be just for the hands, though elegant gloves for parties may also be worn.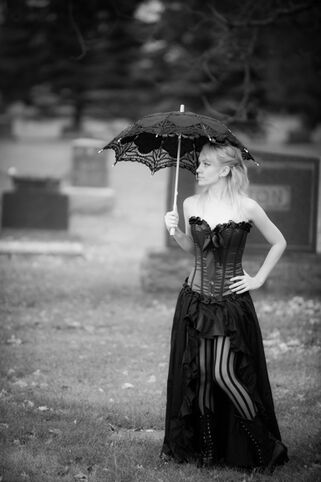 Veils may be worn, particularly during mourning.
Blouses may have a detachable jabot, which is a frilly collar.
Tights may be worn along with pantaloons or bloomers.

Men's accessories include:
Top hats
Monocles
Spats
Gloves
Cane, usually high-quality and intricately decorated or carved
Online Resources
[
]
Videos
[
]
Websites
[
]
Related Pages
[
]