Gothic Victorian fashion combines the dark and subdued colors from Gothic styles with elegant fashions from the Victorian era to create an overall look that is romantic and mysterious.  Much of Gothic Victorian fashion is inspired by Victorian mourning clothes.
One of the key items in Gothic Victorian fashion is the corset.  It is easily identifiable by its back lacing.  Corsets are made as underbust or overbust.  Good quality corsets are made with either flat or spiral steel boning.  These corsets can also be double boned.  Corsets with plastic boning and even no boning are also available, however, these cannot be used for waist training as they should not be laced tightly.  Lacing these types of corsets tightly will cause the plastic boning to bend and dig in, and can not only be painful but ruin the corset.
Although the Gothic Victorian style as a whole is elaborate, corsets are viewed as a statement piece.  As such, they can be found in a variety of colors and prints, such as:
Solid colors - popular colors include dark green, burgundy, and purple, in addition to black.
Damask print
Floral
Stripes
So as to not look underdressed, many women prefer to wear a jacket, shawl, or shrug over their corset, and in many cases this will have a high collar.  The jacket is usually cut so that the corset is still visible.  Others argue that a corset is meant to only be worn under the clothes and is not to be seen, as Victorian ladies wore theirs.
Some types of jackets include:
Button-up blouses and blouses with ruffles or jabots can also be worn.  Short sleeved tops usually have puffed sleeves.  Long sleeved tops may have a bell sleeve, or buttons at the wrist.  Less common are three-quarter sleeved blouses, which tend to be more loose fitting around the arm as the sleeves end on the elbow joint.  Blouses, like jackets, may have a high collar.  Shirts may have lace hems.
These tops are paired with a long skirt.  Skirts can be straight, flowing, or layered.  Skirts may have lace hems.  Many skirts can be worn with a hoop skirt or petticoat underneath to give the appearance of a high-fashion ballgown.  Some skirts are versatile and can be worn down or tied into a bustle.  Other skirts can be worn with a padded bustle underneath.
Tights are very popular, especially striped tights.
Pantaloons or bloomers are worn underneath the skirt.  These are generally only in solid colors such as white and black, but many prints such as stripes and floral can also be found.
A chemise may be worn underneath dresses.  A chemise is basically an underdress worn to protect clothing from body oils and odors.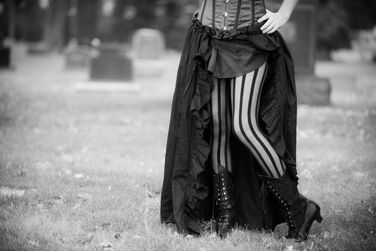 A Gothic Victorian gentleman also wears period-accurate clothing, or Victorian-era styles with a modern feel, with the dark Gothic twist.  Suits may be solid black, have red accents, or pinstripes.  They wear proper fitting trousers with no pleats.  Other menswear includes:
Waistcoat
Cumberbund
Smoking jacket

Of course, all menswear items are typically dark, to fit into the Gothic category.
Online Resources
[
]
Videos
[
]
Websites
[
]
Shops
[
]
Related Pages
[
]