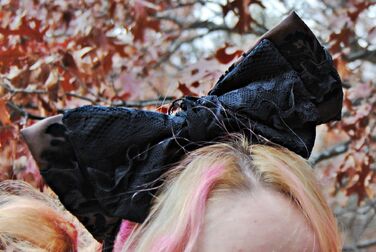 Lolita Accessories
Large bow
A Lolita usually adds headwear to enhance their overall look.  Typical headcoverings include:
Headdress - Typically a rectangular piece of fabric that arcs over the head, made of fabric, lace, ribbon, and occassionally other accessories
Bonnet - A full bucket-shaped bonnet that ties with a ribbon under the chin
Alice Bow - Large bow that sits atop the head
Smaller bows - On barettes and elastic bands
Hair corsage - More popular among Classic Lolitas
Vintage-style hats - Also more popular among Classic Lolitas

Necklaces include pearls and lace chokers.
A purse is a common accessory, and usually takes the shape of the style (for example, candy for Sweet Lolita).
Parasols help to protect Lolitas from the sun.  
Gloves may be worn to protect the hands and add elegance to an outfit.
All accessories can be made to fit into any Lolita style.
Aristocrat Lolita
[
]
Some popular accessories are top hats, veils, and parasols.
Casual Lolita
[
]
Toned-down hair accessories, such as smaller bows on barretes and elastics.
Classic Lolita
[
]
Hair corsages and vintage-style hats are popular.  Jewelry with intricate designs.  Berets, rose garlands, simple headbands, and smaller bows are also worn.  Cameo pendants, pearl necklaces or chokers, antique watches, rose brooches, bird cages, and lace gloves either short or long.  Bags are usually plain, or in special shapes such as berries, crowns, spades, violins, or animals.
Country Lolita
[
]
These Lolitas carry straw baskets and wear hats.
Deco Lolita
[
]
Accessories are the main part of Deco Lolita.  Headwear includes headbows, hairbows, mini hats, animal ears, berets, and hairpins.  Stickers and rhinestones are sometimes applied to face and hair.  Accessory items are often from Disney, My Little Pony, or Care Bears.  Common shapes are ribbons, cupcakes, stars, ice cream cones, hearts, cats, teddy bears, cookies, cherries, strawberries, lollipops and other candy.  Earrings, face masks, rings, necklaces, bracelets, lace gloves, cellphone charms, keychains, pearl waist chains, sceptors and other toys are acceptable, and are worn in large amounts all at once in layers.  Bags are usually decorated in pearls, ribbons and other items, and come in generic plushie shapes.
Ero Lolita
[
]
Collars and fishnets are acceptable.  Rose corsages, bows, and headdresses in hair are common.  Garter belts may be worn.  Chokers and lace gloves.  Lacquer bags in various shapes.
Gothic Lolita
[
]
Crosses, chokers, pearl necklaces mostly in black and red
and lace gloves are most common.
Guru Lolita
[
]
Bandages, eye patches, and slings allow the wearers to look like broken dolls.  Medical cross symbol may be applied somewhere on the outfit.  Nurse hats, fake knives, broken dolls and bloody teddy bears are all common accessories.
Hime Lolita
[
]
Miniature crowns and tiaras are worn.  Some may carry a sceptor or wand.  Pearl necklaces and a lot of lace are also acceptable.  Satin or lace gloves.  Pearl necklaces, chokers, and bracelets.  Bags are often plain, and decorated with pearls and ribbons.
Kodona
[
]
Suspenders, regular ties, bow ties, and bowler caps are worn.  A more extravagant take on this look is to also accessorize with a cane, top hat, cape, and spats, while keeping a boyish quality to the look so it won't be mistaken for Aristocrat.  Mini tricorns, studded belts are also worn.  Mini guns or treasure chests may also be carried.
Kuro Lolita
[
]
Accessories are black.  Straw hats, headbands, corsages, and bonnets.  Lace chokers, cross, pearls, crown, lace gloves.
Punk Lolita
[
]
Mismatched knee-high socks may be worn.  Fishnets, chains, and studs are popular choices.  
Sailor Lolita
[
]
Striped socks are common. A tie may be worn.  Sailor hats, boater hats, sailor themed berets, and sometimes headbows are worn.  Anchors or other sea related jewelry, parasols, and lifebouys may be worn as well.
Shiro Lolita
[
]
White accessories are worn.  Strawhats, headbands, corsages, and bonnets.  Lace chokers, cross, pearls, crown, lace gloves.
Sweet Lolita
[
]
Some common accessories are bows, jewelry shaped like candy, and toys such as stuffed animals or dolls.  Bags and purses usually take the shape of fruit or suffed animals.
Wa Lolita
[
]
Traditional Japanese Kanzashi - fflower hair clips - may be worn.
Online Resources
[
]
Videos
[
]
Websites
[
]
Shops
[
]
Related Pages
[
]