Lolita Clothing Style
Despite the fact that there are so many differing styles of Lolita, there are many commonalities.  Each style typically wears a large bow, a blouse, a bell shaped skirt, knee-high socks, and Mary Jane shoes.  
Lolitas prefer to minimize exposure of their skin, so usually their shoulders are covered (no tank tops, spaghetti strap shirts, or sleeveless tops).  They also do not simply wear t-shirts.  Each blouse has buttons and either puffed sleeves or long sleeves.  Often, long sleeved blouses have bell sleeves.  These blouses usually have collars, traditionally Peter Pan collars, and are often frilly from the collar to mid-way down the front of the blouse.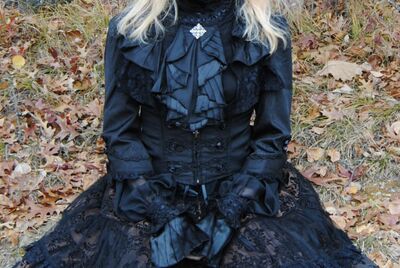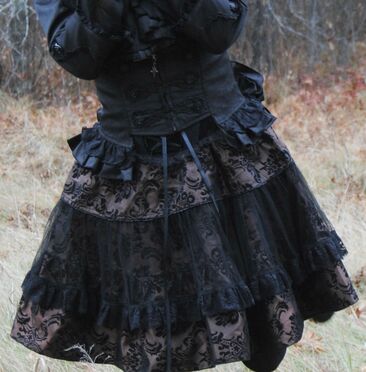 There are many types of Lolita skirts, but they all have a puffy shape thanks to layers of clothing underneath.  These skirts are almost always knee-length and high-waisted.
Jumper skirts (also known as JSK) are also very common.  These are basically a sleeveless overdress, like overalls with
a skirt instead of pants.   Skirts and jumper skirts can also be one layer or multi-layered.  
There are Lolita dresses as well.
These are the shapes of Lolita skirts, jumper skirts, and dresses:
Bell shape - High waist, skirt is the shape of a bell
A-line - More classic look, more fitted around the waist
Empire-waist - Waist sits directly under the bust
Gathered skirt - Fabric of skirt is gathered at the top so the skirt has a ruffled effect
Flared skirt - Flares out to a more extreme angle than a rounded bell skirt
Pleated skirt - Skirt has pleats running from waist to hem
Tiered skirt - Skirt has one or more layers placed over one another to create one skirt
High waisted skirt - Waist of skirt is snug around smallest part of waist, with large strip of fabric to outline the figure of the wearer
Scalloped skirt - Consecutive half-circle hems
Bustle skirt - Pulls up in back to reveal ruffled underskirt or or a sewn-in faux underskirt

Bloomers and petticoats are worn underneath skirts and jumperskirts.  This helps to give the skirts their bell shape, as well as add to the overall look of sweetness and modesty. 
Knee high socks are the most common type of socks.  These can be solid colored, but usually have a print or other embellishment, such as lace or bows.  Over the knee socks and stockings are also worn to protect modesty by covering the legs.  Sheer tights are not worn.  Frilly ankle socks are increasing in popularity.
Aristocrat Lolita
[
]
This style has a lot in common with the Western style of Romantic Gothic, or Gothic Victorian.  Primary colors worn are black, burgundy, purple, and navy.  Skirts are high waisted and worn long, althought skirts may be shorter in warmer months.  There are no cutesy aspects to their outfits, such as frills, or an abundance of lace or bows.  Corsets are commonly worn, as are fitted jackets and frilly blouses.  
Casual Lolita
[
]
This style values simplicity and is best described as what a Lolita wears when not dressing up.  A cardigan overa jumper skirt is a nice casual look.
Classic Lolita
[
]
This style is vey classy, and embodies a cute modern take on typical Victorian dress.  Refined, elegant, mature.  It is not as dark as Gothic Lolita and not as cutesy as Sweet Lolita.  Colors are not bold, though many prints are worn, such as floral or animals.  Neutral colors worn are dusty pink, ivory, wine, brown, dusty green, navy, black.  Skirts are usually A-line.  Less frills and lace.  Skirts often feature corset lacing.
Country Lolita
[
]
Lolitas in this style tend to wear skirts, dresses, and jumper skirts with gingham or fruit prints.  Skirts are full bell-shape.
Deco Lolita
[
]
Bold and vivid colors and prints.  Common colors are vivid red and pink, baby pink, orange, yellow, blue, accents of white and black.  Similar to Sweet Lolita, but with more layering.  
Ero Lolita
[
]
Despite the name this is still a modest look.  This style incorporates some fetish wear, such as leather, busteris, and corsets.  Skirts may be a bit shorter, but not provocative.  Somewhat sexy Gothic look.  Lace or chiffon bolero may be added for elegance.  Blouses are not usually worn, but when they are worn blouses are low cut - however, showing cleavage is considered in bad taste, since even Ero Lolitas are modest.
Gothic Lolita
[
]
This style is primarily influenced by the Gothic Victorian look.  Many wear bell-shaped skirt and puffed sleeves.  Colors worn are dark or rich, such as black, burgundy, purple, emerald green, or navy.  Contrasting colors are also worn , such as the widely popular black and white.  Less ribbons and lace than Sweet Lolita.  
Guru Lolita
[
]
This style incorporates a gory look, with blood-spattered dresses.  The wearer tries to achieve the look of a broken doll.  Any color can be worn, but white emphasizes the gore.  
Hime Lolita
[
]
This is a very elegant style of Lolita.  Emphasis is more on accessories, hair, and makeup, as well as being well-groomed and well-mannered.  Pink and white are most common colors.  Prints include floral patterns, such as roses.  Clothing has a lot of frills, lace, and bows.  
Kodona
[
]
The "boy style" involved more masculine clothing, and wearers of this style can be either men or women, though men usually refer to themselves as Dandy rather than Lolita.  Common colors are black, or white and black.  Very common are prince pants, which are capri-style pants cut off about the knee that usually have details such as a lace hem.  Vest worn over frilly blouse.  Long button-decorated coats and swallowtail jackets.  
Kuro Lolita
[
]
All black clothing, but not in the Gothic style.  This can be in any style, as long as the colors are all black.  They are often paired with Shiro Lolitas to make a nice contrast.  Often worn with long-sleeved blouses rather than short-sleeved.
Punk Lolita
[
]
Punk aspects are incorporated into this Lolita look.  Accessories and fabric choice (such as plaid) are very important.  Deconstructed fabrics are common, and layering is key.  Mismatched socks may be worn.
Sailor Lolita
[
]
This style is inspired by the Japanese sailor-styled uniforms.  Blues, blacks, and whites are the most common colors.  Fabrics are commonly plain or striped, and symbols such as anchors or ship wheels are common.  Often, the skirt is pleated and A-line.  Blouses have sailor collars, short puffed sleeves, and may have pockets.  Striped socks may also be worn.
Shiro Lolita
[
]
This style corrdinates all white, off-white, and cream colors.  This can be any style, as long as the colors are all white.  They are often paired with Kuro Lolitas to make a nice contrast.  Often worn with long-sleeved blouses rather than short sleeved.
Sweet Lolita
[
]
This style incorporates many ruffles and bows to make an outfit.  The most common colors worn are pink, white, and powder blue, but nearly any color can be worn.  Fabrics usually have cute prints, such as teddy bears, ice cream cones, strawberries, cakes, carousels, pieces of candy, or are inspired by fairy tales.  
Wa Lolita
[
]
This style involves long sleeves and sashes taken from Kimono outfits and fused with the bell shaped skirt of Lolita.  Kimono prints are commonly used, such as florals or cranes.  Shiny fabrics are not used.  
Online Resources

[

]
Videos
[
]
Websites
[
]
Shops
[
]
Related Pages
[
]