Lolita Makeup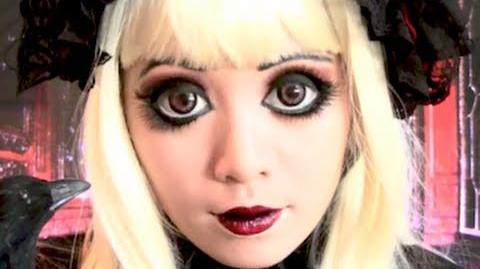 Many times, Lolitas try to emphasize the size and shape of their eyes to make them appear larger.  This includes using makeup andcircle lenses to achieve the effect of large doll eyes.  Fake eyelashes enhance this look.
Aristocrat Lolita
Edit
Usually mature and on the darker side.  Dark eyes and dark red lips are popular.  Lighter colors are generally only used on lips.
Casual Lolita
Edit
Very little makeup, for a more natural look.
Classic Lolita
Edit
Light makeup is usually worn but darker makeup with a softer look is also acceptable.
Country Lolita
Edit
Very simple and natural.  Sunscreen is worn by those on picnics or spending time outside in general.  Light lipstick and blush is also worn.
Ero Lolita
Edit
Dark makeup is common.
Gothic Lolita
Edit
Ranges from a light, natural look to a dramatic smokey eye and red lip.  White face is considered bad taste in Gothic Lolita fashion.
Guru Lolita
Edit
Fake blood and fake bruises are popular.  Drawn on cracks make the wearer look like a broken porcelain doll.
Hime Lolita
Edit
Natural looking, classy makeup.
Makeup is minimal, though sometimesdarker makeup is applied around the eyes.
Kuro Lolita
Edit
Natural or black makeup.
Punk Lolita
Edit
Makeup is a bit heavier than Classic and Sweet styles.
Sailor Lolita
Edit
Natural makeup with lip gloss.
Shiro Lolita
Edit
Natural makeup, or white if done well.
Sweet Lolita
Edit
Light, natural makeup.  Pink, peach, or pearl makeup are considered highly sweet.
Wa Lolita
Edit
Ranges from light and natural to Japanese geisha inspired.
Online Resources
Edit
Related Pages
Edit
Community content is available under
CC-BY-SA
unless otherwise noted.