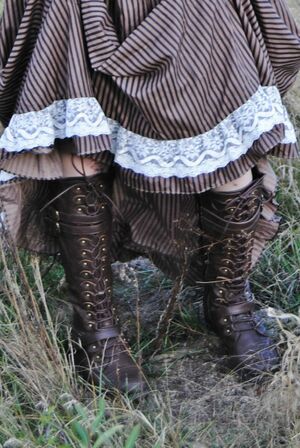 Steampunk Footwear can be simple or highly creative, and is almost always based on the styles of shoes found in the Victorian era.
There are many styles of footwear, from flats to boots, though boots tend to be worn most.  These include:
Ankle boots
Calf-high boots
Knee-high boots
Thigh high boots are not common, but are occasionally seen.  Other types of footwear include short heels, high heels, flats, Mary Jane's, and even slippers.  High heels often have an industrial-looking (yet still functional) heel.
Many women's shoes are embellished in some way.  Some common embelishments include:
Lace inserts
Large decorative cogs or gears
Buckles
Metallic insects
Cameos
Grommets
Floral patterns

Mens footwear often consists of dress shoes or high leather boots.
Online Resources
[
]
Videos
[
]
Websites
[
]
Related Pages
[
]